Metal Roofing
At Premier Exteriors, we take residential and commercial roofing to a whole new level of excellence. We provide new roof installation, as well as detailed roof repairs, to ensure that your building is protected for the years to come. Our metal roofing gives you the variety you want with the longevity you need.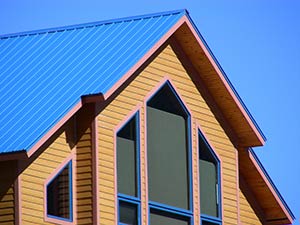 One of the many benefits of metal roofing is that there are a variety of metal materials, styles, and colors to choose from. That means your roof will be perfectly customized to match your home or other building. Metal roofing is also very durable, often lasting between 40 and 70 years, so you don't have to worry about a roof replacement. This metal material has also been found to be energy-efficient, as the metal reflects the sun's rays and protects the inside of the building from overheating in the warmer months.
Metal Roofing in Omaha
Premier Exteriors has provided professional and dependable roofing services to Omaha and the surrounding areas since 2001. Our professional roofing contractors are dedicated to providing the best service possible from the very first consultation to the when we complete the project. Call Premier Exteriors today at 402-679-6000 to learn more about our metal roof options.
I was very impressed by Jim and Greg and the whole crew they were very professional with follow ups and making sure I was satisfied, I will never use any other company and I already have refered a couple friends as well as my own apartment complex to Premier Exteriors. There may be a few less than …