Does your vinyl siding need repair?
Sometimes a homeowner will experience damage to their homes siding requiring repair work be done.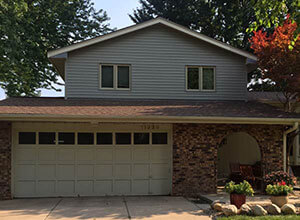 It is very common to see hail damage or vehicular dents in vinyl siding.  Additionally, if installed improperly we often will need to repair or replace siding that is nailed in too hard or not installed using the proper manufacturer methods.
In most cases we can find a replacement piece that is in a remote or non visable spot so that the sun fade of the piece will match the spot where we are doing a replacement.  If we have to use a new piece of siding we'll do our very best to get a color match that looks good.
It's best to use a professional siding contractor to do repairs.  The reason is that most homeowners are not familiar with all the detail work that is necessary to get a good match and have the repair done properly.  If you need help, have a question or wish to schedule an appoint – please give us a call in our Omaha office today at (402) 679-6000.
Areas We Serve in Omaha, NE
Great! All work was as promised. Our neighborhood had major hail damage in April 2013. We were able to observe many other roofing companies work. We were very pleased with the number in the crew and the work accomplished! Ours was a big job but done in a timely manner. Any questions or …