Standing Seam Roofing
Standing Seam Roofing: Another Option for Home Roofing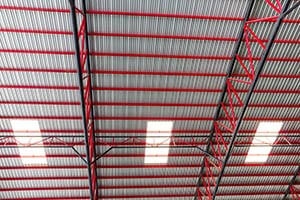 It used to be that most of the options for home roofing Omaha residents had were limited to shingles, whether they were asphalt, shake or clay. This is fortunately no longer the case. Once seen almost exclusively on commercial buildings, metal roofing is now being used more on residences.
Metal Roofing Options
Though there are various types of metal roofing, the one that seems to be favored for homes is the standing seam roof. This metal roof is typically made of Galvalume coated steel. It may also be made of aluminum. Standing seam roof panels are from 12 to 19 inches wide and run from the peak of the roof to the eave in a continuous strip. Each edge along the width of the panels is crimped to make it rigid after the panels are formed from a roll of metal.
What Makes Standing Seam Roofing Unique?
What makes this roofing different from other metal roofing options is the same thing that gives it its name. The fasteners that hold the panels together stand above the level areas of the panels. The manner in which they are attached keeps the fasteners concealed, leaving the roof with ridges that run from the top to the bottom of the roof.
What are the Advantages of Standing Seam Roofing?
The roofers Omaha residents talk to explain that this type of roofing has the advantage of greater durability and lower maintenance because of the type of panels and fasteners the roof uses. Metal roofing's weakest point is often where panels are fastened together. The standing seam roof solves this problem as this type of seam running vertically instead of horizontally along with the raised fasteners is less likely to allow moisture through to cause leaks. Since the panels and seams run top to bottom without breaks, there are usually fewer seams. This makes it a great roofing option for business as well as residential buildings.
Is Standing Seam Roofing Cost Effective?
Though it is more expensive up front than most other types of roofing Omaha residents have available to choose from, it does pay for itself over time. It holds up to weather better than shingles of any type do, making repair or replacement a rare occurrence. If there is ever damage to standing seam roofing, it will be from something heavy falling on it, such as a large branch or tree landing on it or large hailstones.
Those who may be concerned about how this type of roof will look on their homes need not worry as it is available in more color options than traditional roofing. Also, it looks and works best on homes that have a fairly steep pitched roof. It is not a good option for roofs that are flat or don't have much of a pitch.
This type of roofing is becoming more popular for homes but most not all roofers Omaha residents have to choose from will have it available. It is more likely going to be available through companies that do both commercial and residential roofing. Before you decide on what type of roof to put on your home, you might want to check into every type of roofing Omaha companies can offer.
If you have any questions about roofing services provided by Premier Exteriors or want to schedule a free estimate please fill out our online form or call us at 402-679-6000 for a free inspection.
Great! All work was as promised. Our neighborhood had major hail damage in April 2013. We were able to observe many other roofing companies work. We were very pleased with the number in the crew and the work accomplished! Ours was a big job but done in a timely manner. Any questions or …