Replacement Windows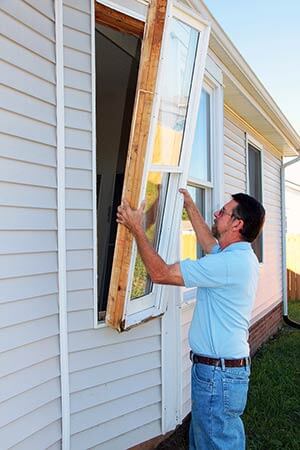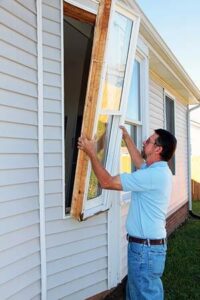 Is it time to get your windows replaced? There are several telltale signs that your old windows are no longer doing their job. If your home has become drafty, or your energy bill is unusually high, it is likely that old windows are the culprit. When old windows wear out, they tend to experience something known as seal failure. Seal failure is when the glass is no longer doing its job to create a barrier between the interior of the home and the outside air.
Without high-quality replacement windows, your home will only continue to waste energy.An additional sign of seal failure is when you see condensation building up between the glass panels of the double-pane windows. There are temporary solutions to help seal the windows after this occurs, but the only permanent solution is new replacement windows.
If your home was built prior to 1960 and still has the old windows, lead paint could be a concern for your windows. The opening and closing of the windows causes friction, which can lead to the release of lead dust. This lead dust has the potential to cause lead poisoning in children, which is why it is important to find out if there could be lead paint around your old windows. If so, installing replacement windows and removing the old lead-filled ones is the safest option for your family.
ProVia Replacement Windows
Our team uses ProVia windows to replace your worn out and damaged windows. Our team provides down-to-the-stud replacement window services that guarantee your windows will last a lifetime. ProVia windows use master fit interior trim that is garunteed for life.
Replacement Windows by Premier Exteriors
New windows by Premier Exteriors will make your home better insulated and more energy-efficient. We take pride in installing replacement windows that will only add to your home's value and comfort. Not only will our replacement windows reduce your heating and cooling costs, but they will also boost the curb appeal of your home. Potential home buyers greatly appreciate such valuable home updates.
Call Premier Exteriors of Omaha today if you are considering replacement windows for your home. Premier Exteriors experts are happy to answer any of your questions or concerns. Contact us today at 402-679-6000.
Areas We Serve in Omaha, NE
I was somewhat impressed by the site estimator. He was prompt in arrival, and his bid. He played the salesman game that everyone does, calling his boss at the table, etc, and seemed a little cocky in his attitude, so he wasn't any different than any other company. The bid was in the middle of the …