Millard, NE Replacement Window Company You Can Trust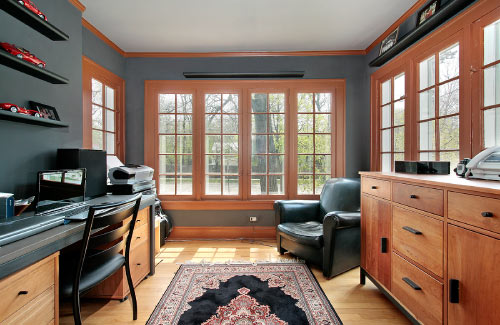 What is your new project worth? While searching for the best replacement window company you want a solid contractor you can trust for a variety of reasons. Making sure that your local installer will provide quality products but also thoroughly complete the project with craftsmanship that shows in their work. With Premier Exteriors you get exactly that: a company in Millard, NE that you can trust. Have over 150 customer reviews that you can view at any time to see what homeowners think about us.
What About Energy Efficiency?
We do carry excellent products that are ENERGY STAR® rated in several ranges from average insulation to above average. We have worked with the products we use for years, and each year we research the latest and greatest in technologies for better replacement windows. Filtering out only the best products for cost vs effectiveness, we keep a thorough balance between both for the benefit of the homeowner. When you're looking for better value above all else turn to the professionals at Premier Exteriors.
Window Frames, Styles, and Designs
There are hundreds of styles available in the Millard, NE market, and hundreds of frames and designs for each style presented. This gives the homeowner a wide selection to choose from without getting bored. However, this can also be overwhelming for a few reasons.
Finding the right brand with a selected style can be difficult in it's own, but also finding the right design that blends with your home. In these cases we do have our experts trained in modern design with artistic affinities that can assist in the right choices.
Not only do you want new windows, you want it to be stylized in a way that makes sense for you, your family, and visual aesthetics that appeal to other people.
The Various Frames in the Market
Style and design are the 'after-thought' sotospeak after choosing the right frame. Frames are the foundation for finding the perfect window, and then deciding all the different options from there. There are many frames that we can install, even if the previous frame was much smaller than the one your desire. Since we handle all aspects of exterior work you will have no issues in upgrading any type of window you want.
The various frame to choose from are:
Casement – for the average and standardized frame
Single-hung – giving you more energy efficiency during sever weather
Picture – for elegance and beauty in larger or smaller areas of your home
Awning – gives added flare to entryways or other window installments
Bay and Bow – Large windows to bring more light into family oriented areas
Garden – usually for kitchen area, however growing more common in other places around the house
Double-hung – for large areas that have more energy efficiency than the others
And more!
Free Consultations For Your Window Buying Decision
Buying new replacement windows can be a hard decision. It sometimes starts with homeowners doing hours of research looking up brands, manufacturers, products, styles, designs, etc, getting lost in the mix of choices. However, we offer free consultations that are professional meetings between the homeowner and our knowledgeable experts that can go over our product brochures from different brands we carry so that you can find the right decision for your home. Contact us today for a hassle-free, no-obligation appointment to get more details on our services and products.
Millard, NE Service Area Map