Omaha Roofing by Premier Exteriors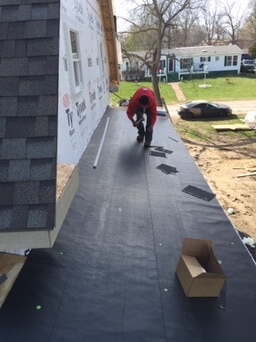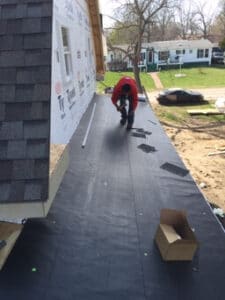 Premier Exteriors offers a broad range of varieties of roofing. As Omaha's premier roofers for more than ten years, Premier Exteriors has always worked to achieve precisely the kind of roof that each of our customers are looking for, whether it's residential or commercial roofing. We can also do a range of professional roof repair services, from damage caused by hail storms to a roof worn with age.
Omaha native Jim Pull provides a broad array of roofing and roof repair services to Omaha customers. Explore our many different options and services using the drop down links on our menu, and if you have questions, please don't hesitate to pick up the phone and give us a call at 402-679-6000. We have the answers you need for your roofing project or roof repair.
Omaha's Trusted Roofing Company
Trust all your roofing projects from installation to replacement and repair to the experts at Premier Exteriors. When it comes to Omaha roofing needs, we take care of all your projects while providing the best service. Since 2001, we have served the Omaha Metro area as well as surrounding areas in Iowa. Offering the utmost quality and dependability is what sets us apart. We use professional Omaha contractors and our staff is always ready to provide you with superior service. From the initial consultation to the finished job, we are with you every step of the way.
What We Do
For all your Omaha roofing projects, Premier Exteriors offers a variety of options. Shingles, metal, slate and clay or concrete roof tiles are just part of the products offered by our company. Many of the homes in this area have asphalt shingles. If you have been in your home for 15 or 20 years, it is likely that you need a new covering for your roof. The shingles will break down over the years as they are subjected to extremes in temperature and the power of the sun.
Residential Roofing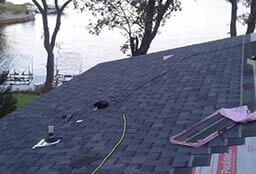 All our roofing crews are employees who have had the proper training on both product installation and safety methods.  In Omaha there are literally hundreds of companies who do both residential roof replacements and repairs.  A wise consumer should take the time to really checkout who it is they are allowing to work on their home.  At Premier Exteriors, Jim Pull our owner has assembled a team of hard working and knowledgeable roofers.  We take no short cuts and use only the best quality materials.  Whether you need to fix a "hole in your roof or need a whole new roof" give us a call and we'll be happy to help.
Commercial Roofing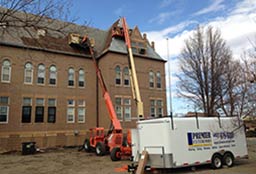 Commercial roofing contracting in Omaha is an area that we have the right team to and equipment to handle each job properly. Since commercial buildings often use different types of roofing than a home it is important to make sure you select a company that knows what type of commercial roofing product will best serve the structure needing a new roof. Whether it is a school, church, office building or industrial warehouse our commercial roofing division team can get the job done right, and right on time.
Roof Replacement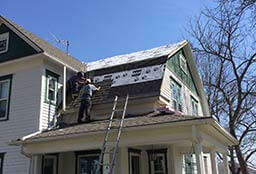 The Omaha roofing experts at Premier Exteriors can help with your roof replacement. With a number of choices in replacement roofing, your home will be aesthetically pleasing as well as secure from the elements. One example of the choices available in roofing replacements is DaVinci Roofscapes products. Choose from 9 slate blends and 5 shake blends, or from the available custom coloring. Not only will the roofing products enhance the look of your home, but they also have a 50 year warranty. This roofing option offers a great look for your home and is very cost-effective.
Roof Repair
At Premier Exteriors, we know that the roofing protection needed for your home is more than just the visible shingles, tile, or steel. The entire roofing system must be of the highest quality to withstand wind, rain, snow or sleet. Many inferior products begin to curl or blow off the roof entirely during severe weather. This is why we only use top-of-the-line products. If you notice your roof has been leaking, this is a problem that cannot wait; give us a call and we'll get it fixed. If your roof has been damaged by hail, storms, or simply by age, our team is here to help you with a roof repair that will keep your roof safe and durable for years to come.
Specialty Roofing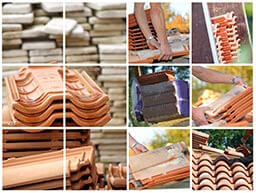 We offer several different choices for high-quality specialty roofing.
We Take Pride in our Work
We have been providing customers with solutions for all their Omaha roofing needs for more than ten years. We continually strive to provide outstanding customer service and high-quality products. Premier Exteriors will listen to your needs and provide the professional roofers to get the job done in a timely manner. We want our customers to be confident that the job will be done right.
Premier Exteriors has been providing quality and dependable roofing services to the Omaha Metro and surrounding areas since 2001. Call Premier Exteriors today at 402-679-6000 to get started on your roofing project with the help of professionals you can trust.
Areas We Serve in Omaha, NE
I was somewhat impressed by the site estimator. He was prompt in arrival, and his bid. He played the salesman game that everyone does, calling his boss at the table, etc, and seemed a little cocky in his attitude, so he wasn't any different than any other company. The bid was in the middle of the …