Slate Roofing
Why Choose Slate Roofing?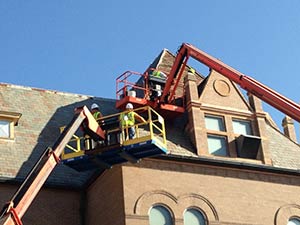 A house needs to be fully reinforced to make it a strong enough refuge. The roof is a major contributor to a home's stable structure. Because of this, homeowners make sure that their roofs are able to endure any kind of storm or intense heat. This will ensure the safety and the health of the residents. One of the strong materials used for roofing is slate. Slate is a metamorphic rock that is foliated and homogeneous. Slate has that distinctive foliation that is very strong. This is known as slaty cleavage, which is brought about by the intense compression. The compression causes the fine-grained clay flakes to grow again in the planes that are perpendicular to the strong compression.
How Slate is used in the United States
In the United States, slate is usually crushed so that it could be used in concrete mixes and road construction. It is the most commonly used crushed stone product. It is locally acquired from the Appalachian Mountains of East Pennsylvania and the Green Mountains of Vermont, making it economical for many construction projects. It is also used in making tabletops for pools and pavement stones for gardens, homes, and buildings.
The Good of Slate Roofing
Slate roofing is always seen as an ideal roofing material since is very durable. If you want slate for your roofing, check out the advantages you can get from it:
Natural beauty. Slate in its natural form has a variety of thickness, sizes, and colors. It really adds a very appealing element to any structure. You can decide on the color of slate according to the general color you want for your home.
More value. If you want your home to have more value, use slate roofing. It has high value because it is all natural. It doesn't have to undergo any process to improve its quality.
Long lasting. Expect your properly installed slate roofing to last 100 to 150 years. Imagine handing down your home from generation to generation without changing the roofing material for a long time. Just make sure that it is inspected on a regular basis as well.
Environmental friendly. Since slate is naturally acquired and not synthesized, it does not harm the environment.
Resistant to fire. Fire resistance is a natural quality of slate roofing. You can be sure that your roof will be safe from wildfires, close residential fires, and fireworks.
Resistant to harsh weather. Slate roofing is made of heavy, natural stone, which makes it ideal for stormy weather and extremely windy climates. If you are in an area of the US that experiences tornadoes, slate roofing is ideal as roofing material.
Do You Have to Maintain Slate Roofing?
Not at all! you can save yourself the trouble of maintaining your slate roofing because it is maintenance-free. You won't have to clean, paint, or seal it if it is properly installed. Just make sure that you have extra slate tiles for future replacements or repairs.
Slate roofing gives that rustic, strong feel to your home. If you want a long-term investment that is worth every penny, you should definitely go for slate roofing.
Think that Slate Roofing is Something You Can't Afford?
Introducing TruSlate® by GAF a Genuinely Affordable Genuine Slate Roofing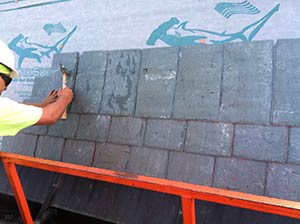 Slate is among the most beautiful and the most durable of all roofing materials. It's know to last for years and years and it is been the choice of roofers in Omaha's and around the world.
In fact, according to GAF, for centuries, "it's been the roofing material of choice for the world's greatest buildings. In fact, some slate roofs have lasted for literally hundreds of years, enduring all of the ravages that Mother Nature could throw at them."
Let's face it, it's downright gorgeous. The only problem is that slate roofs are heavy—and expensive—putting them out of the reach of most property owners.That is, right up until now. GAF has come up with one of the most amazing innovations around, The TruSlate® Premium Roofing System from GAF and it can make your dream of owning a genuine slate roof a reality. The TruSlate® System features:
Real S1-grade hand-split quarried slate
These are not imitation slate shingles, you're getting the real thing. A slate roof system is now something that you can afford. Call Premier Exteriors and ask about the TruSlate System from GAF.
Contact Premier Exteriors now at 402-679-6000 or fill out our online form to learn more about slate roofing options.
Great! All work was as promised. Our neighborhood had major hail damage in April 2013. We were able to observe many other roofing companies work. We were very pleased with the number in the crew and the work accomplished! Ours was a big job but done in a timely manner. Any questions or …