The two most common types of steel used in siding are aluminum and steel. Steel siding is better when it comes to durability and insulation. Steel can take more impact and treatment than aluminum, and you will not have to worry so much about denting. Steel can offer pretty good insulation properties as well.
The R-Value for steel siding is less than wood, but greater than brick and can also be foam-backed for better insulation, which then surpasses wood and is second only to stone siding.
Steel also benefits from being waterproof, insect-proof, and resistant to fire. Most metal siding is rated as noncombustible, which means that in fire safety testing, it was shown not to ignite and spread fires. In fact, metal is arguably one of the best materials to put on your home to reduce fire damage.
Seamless Steel Siding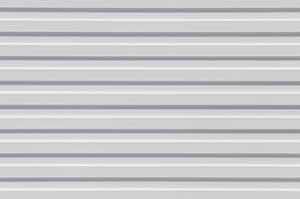 Seamless Steel Siding is custom fitted, built for incredibly durablility, and maintenance free. Its solid vinyl coating bonded to the steel surface means it doesn't require painting, resists scratches, and corrosive pollutants while holding its color under intense hot weather.
At the strong steel base forms a core that won't sag, ripple, or vibrate. Seamless steel siding's proven corrosion resistance won't crack, chip or peel. Seamless Steel Siding is a great choice for new construction and remodeling projects for residential and commercial properties.
Interested In Steel Siding? Schedule An Estimate!
Premier Exteriors is a company that prides itself in delivering superior customer service, combined with high quality products and fair pricing. With that, we give you peace of mind in working with a licensed and insured Omaha based company.
We Provide Steel Siding Installation & Replacement To:
Great! All work was as promised. Our neighborhood had major hail damage in April 2013. We were able to observe many other roofing companies work. We were very pleased with the number in the crew and the work accomplished! Ours was a big job but done in a timely manner. Any questions or …