Deck Building
Deck Building and Replacement
Custom Deck Building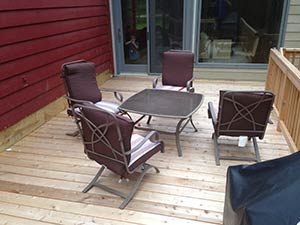 Building an outdoor deck is one of the simplest ways for homeowners to expand their living space and add visual appeal to their landscape. Constructing an outdoor deck, while simpler than an addition, does require careful planning. As with any home improvement project, the more that is put into the planning and preparation, the better the project will turn out. Expert deck building from Premier Exteriors can help make sure that you are considering every step of the deck planning process.
Think carefully about the material you want to use to build the space. Materials such as Fir and Pine are less expensive in the short-term, but these materials are sure need a replacement within 10 years. High-end materials, such as Cedar and Redwood, may cost more today, but they will offer higher durability and a longer lifespan so that you can enjoy the space for many years without worrying about it falling apart. You can also choose between aluminum decks, concrete decks, and composite decks. A professional deck builder can guide you through the planning process and help everything go smoothly.
The design of a deck incorporates several elements. You need to consider privacy, landscape, and architectural appeal. Choose between an octagonal, a free-standing, a multilevel deck, or maybe even a pool deck design. Some prefer a warm and classic look, while others want a sleek and modern appeal. By enlisting the help of an experienced deck builder, you can be sure that your new outdoor space will be the perfect fit for you and your family.
Call Premier Exteriors today at 402-679-6000 to speak to an experienced deck builder Omaha and get your project started.
Minimal Maintenance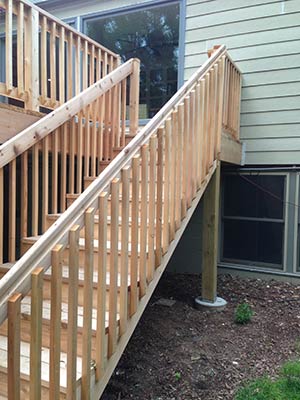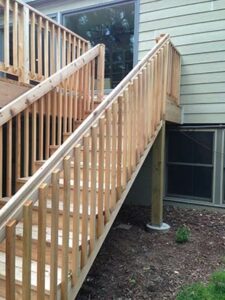 Decks traditionally were built from wood, including redwood, cedar, and other durable wood materials. As wood prices increased, professional deck contractors sought more inexpensive materials from which to build custom decks. Pressure-treated wood arose on the scene, and a whole new class of affordable custom decks and outdoor products were built, including swing sets, fences, gazebos, arbors, railings, and more.
Premier Exteriors stayed one step ahead of tradition and, as time went on, this professional deck contractor realized the high maintenance involved with using pressure-treated wood was not cost-effective. A professional deck builder from Premier Exteriors can explain to you the true costs and benefits of each choice so that you end up with the right choice for you.
Modern Custom Deck Systems
The beauty behind having a custom deck system built by an experienced deck builder at Premier Exteriors is the maintenance-free feature of your new outdoor living space. Gone are the days of necessary annual deck maintenance to keep your backyard from looking like an eyesore. These elegant, convenient decks are made from high-quality reclaimed hardwood fibers and pure plastic resins, and we offer lifetime warranties.
Thinking Out of the Box
Premier Exteriors makes it a priority to design, create, and install the outdoor space of your dreams. Working with many highly regarded suppliers, Premier Exteriors can build a top quality deck from the material of your choice, including:
PVC Decks
Wood Decks
Composite Materials
And more
Areas We Serve in Omaha, NE
We live in the country and the old deck was not built to any codes. They handled getting permits. The demolition started at the end of May. Removing the old footings was time consuming, but they did a great job. The workmanship was superior. They went the extra mile with everything. The …