Your Local Gutters Provider in
Council Bluffs, NE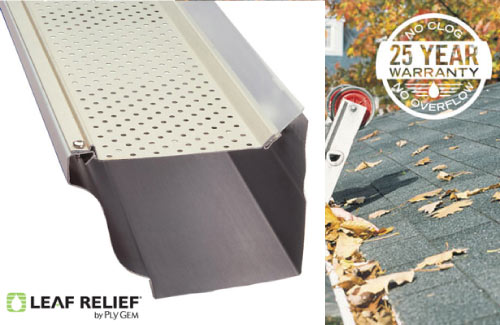 Premier Exteriors your local provider for reliable gutter systems and gutter guards. Long have we established ourselves over the last 25 years for customer quality, care, and professionalism that delivers craftsmanship in a world where this exterior is often overlooked. Specializing in all forms of exterior maintenance and installation, we offer efficient water mitigation products with anti-clogging capabilities that will keep your Council Bluffs, NE home protected from rainfall and snow-thaws throughout the years.
While many products in the market continue to 'raise the bar' in a technological standpoint, our gutters are still effective in absolute performance. Built with an integrated guard that wars off debris, our systems are guaranteed to work and last through any seasonal changes. Check out our customer reviews from satisfied homeowners all over Nebraska.
The Means to Provide Water Protection: Gutter Systems
Gutter systems are the only means to mitigate water. They're protection comes unparalleled- meaning that there is no other exterior that effectively guards your home from structural damages. Aside from waterproofing any type of concrete, these products are the forefront of water draining. If this system fails you'll be dealing with other problems in the future. This is caused by 'pooling' and deterioration surrounding your home.
Replacing Your Gutters With Better Ones
If you've already notice signs of small puddles and yard flooding around your home it's time to replace your gutters. Getting new systems isn't always the best method- however, we find that when it breaks it's broken and must be replaced. Repairs are a way that contractors can draw you in for additional, unnecessary work.
Here at Premier Exteriors we believe in honest work. Having a system that truly works and deliver the performance is the only way around water mitigation.
What We Offer
We use a product called Leaf Relief® which is a standardize gutter system in the industry- largely becoming popular in new construction homes. We offer their products and systems through our expert installers that can complete the project quickly and efficiently. Leaf Relief® comes from years of dedication to rainfall protection, with pre-installed guards with every panel.
It comes with a 25 year warranty that guarantees no clogging or overflows at any point of the season. It's a well built model that reduces costs of other unnecessary products in the market with it's simple yet effective design. After 25 years in the business, we confirm it's performance and reliability.
Our Reputation As a Gutter Contractor
Take the time to check out our references and reputations throughout the market. We are a certified gutter contractor that started in 1991 as a premier expert in home improvement. Through the years we have been granted many awards and achievements that were not possible if it weren't for the satisfied customers we have serviced. See below for more information.
You can also contact us today for additional information on what we provide, our products, services, and estimates for any project. Free consultations have zero obligations and allow you to shop around for what you need. We're here to provide that and more at Premier Exteriors.
Council Bluffs, NE Service Area Map