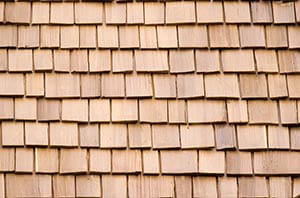 Most wood shake roofs are made from Western Red Cedar because of its many superior qualities such as
defect-free straight grain
stability
low weight (density)
moisture resistance
decay resistance
Cedar is naturally moisture and decay resistant due to natural substances within the wood, which is why it's the number one roofing and siding material in coastal communities and other areas regularly exposed to abundant moisture and wind. Cedar is a fantastic material for any outdoor structure including decks, patio furniture, and yes, roofs too. Here are some things to know about cedar shake roofing:
Architects and builders often choose cedar shake roofs for their beautiful natural appearance that blends well with the surrounding environment and enhances a home's landscaping.
The Difference Between a Shake and a Shingle
Wood shakes are thicker than wood shingles, and all wood shakes are cut from clear, defect-free hardwood. There are two main types of shakes:
Handsplit and Resawn shakes
Tapersawn shakes
Handsplit and Resawn Shakes
This type of shake is installed with the split face exposed and the sawn side down, and has a rustic appearance.
Tapersawn Shakes
These are sawn on both sides for a semi-textured appearance. They have a strong shadow line as compared to thinner cedar shingles.
Although it's difficult to predict the lifespan of a cedar shake roof, according to the U.S.D.A. Forest Products Laboratory, a good wood shake or shingle roof should last up to 30 years under favorable conditions — meaning that the roof is well maintained. In other words, the better care you take of your wood shake roof, the longer you can expect it to last.
If you'd like to learn more about the benefits of a cedar shake roof for your Omaha-area home, contact us at Premier Exteriors. We've been providing top-quality roofing services to the Omaha metro and surrounding area for 15 years and counting!