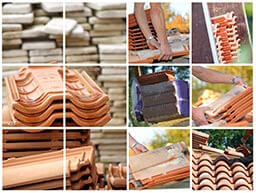 A Spanish tile roof is not only attractive, but it can add a ton of value, quality, and protection to your home. These shingles are formed from clay that's fired at very high temperatures, resulting in an attractive, durable, and very long-lasting product. But with anything in life, there are also some drawbacks. Check out some of the pros and cons of Spanish tile roofing. 
Pros 
For starters, Spanish tile roofing is one of the most attractive and impressive looking types of roofing out there. It will instantly give your home an upscale and classy look that can add immeasurable value to it. This extremely durable material can last upwards of 70 years or more, which will likely eliminate the need for replacement in your lifetime. Spanish tile roofing is non-combustible, which means that your family is well protected and it will probably make your homeowners insurance rates lower. And it provides great insulation for your home, keeping it warmer in the winter and colder in the summer. 
Cons 
Perhaps the biggest con of Spanish tile roofing is that it's very expensive to install. The initial cost is significantly higher than a regular shingled roof, but when you look at it in terms of how long the roof will last it doesn't seem so bad. You're saving money in the long run on repairs and replacement. And it is very heavy, so the substructure of your roof may need reinforcing. 
Contact us today at Premier Exteriors for more information on Spanish tile roofing and what it can do for you and your home.