Premier Gutter Experts in Chalco, NE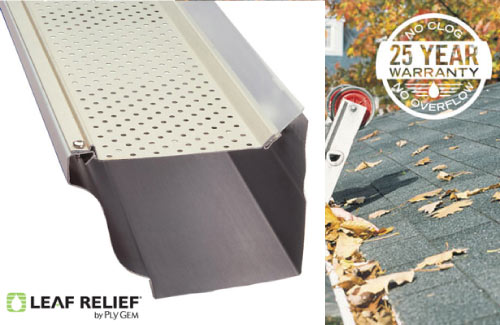 When you want reliable gutters you want a company that you trust. Not only for thorough job completion but an efficient system that works, and without the additional costs you'll pay anywhere else. We install quality products that deliver optimal performance in Chalco, NE. Rain, fall, and snow, our gutters are assured to work. With a 25 year manufacturer warranty in any installation your home is properly protected on both fronts.
Our company is A+ rated in the Better Business Bureau, recommended on Angies List, and Top Rated on Home Advisor. We've accomplished this through the professional work we do and the homeowners that have been pleased with our performance.
Replacement Gutters For Thorough Protection
The question to ask is: Do I really need gutters? Here at Premier Exteriors we believe in providing accuracy in the information we provide. There are no high pressure sales or obligations. We offer free consultations and estimates for the benefit of the homeowner. That being said, we also believe in replacement gutters if your system has proven to be ineffective with it's drainage capabilities.
The Dangers of Bad Water Mitigation
If your gutter system has bad water mitigation it can be dangerous in a few aspects that homeowners often overlook. Water build-up around your home is actually considered a waterproofing problem. When you have 'pooling' around the soil of your concrete this can lead to basement or foundation failure which is one of the most costly repairs in the industry.
This can also cause problems with your roofing. Being attached to the soffit and fascia, if gutters don't perform well or become clogged it can damage the structures above your home. Whether it's leaks, holes, or woodrot, bad gutters will be the downfall of other exteriors on your home.
The Solution: Leaf Relief® Gutters With Built-In Guards
Many contractors have a long list of products that seem relatively fancy and do perform under extreme conditions. However, in Chalco, NE we experience average rainfalls and snow-thawing seasons that only require a standardized product. With Leaf Relief® you get exactly that.
Even then Leaf Relief® provides a solid rainfall mitigation ratio around 30 inches of water per hour (which is a very extreme circumstance). They come with built-in gutter guards as well that don't clog from debris while continuing to drain under heavy loads.
Get What You Pay For
Gutters in general: you get what you pay for. However with our products we use Leaf Relief® due to it's cost efficiency as well as it's performance. By knowing the trade for over 25 years in the business we only offer what is necessary for our customers. Homeowners can rest assured that their new system will deliver results without all the costs of higher competition markets out there. Contact us today for more information and we'll be happy to provide a thorough analysis and estimate at no additional charge.
Chalco, NE Service Area Map